This will be our first Legion contest, hurray for that! Okay we have been thinking about how to do this contest for 2 weeks now and we think we have found a good way to do it! Anyways the theme is gather clay as that is something we can use and it will be okay easy to find a (some) winners aswell!
Contest Date
5th Feb 2011
Time
13:00gt to 14:00gt
Rules
Sceenshot have to be taken in the timezone 12:58- 12:59 of all your backpacks (also Extradimensionals backpacks!) The screenshot has to be taken inside the clayfield of course!
Example: What the screenshot shall have included!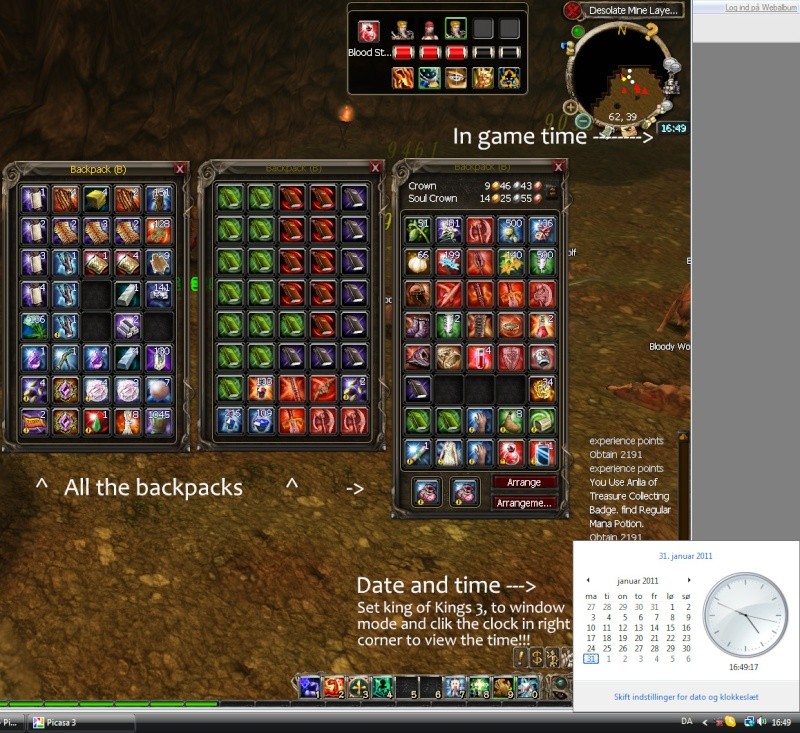 The one member with the most clay after an hour wins the 1st prize the one with 2nd most clay get 2nd prize and so on!
If some members has the same amount as one of the winning prizes they'll get the same prize (wich means more than one member can get the 1st place and 2nd and 3rd)
Finding the winner: At precisely 14:00gt everyone takes a new sceenshot, then you go to this thread and add both the before and after picture below!
** Prizes **1st place
1g 50s soul crowns
2nd place
1g soul crowns
3rd place
50s soul crowns
All others who joins the event gets
25s soul crowns
(All prices awarded in items, which you then sell to your Imamu)
Any questions please ask below v
Huggs from An'lia and Liandra
.